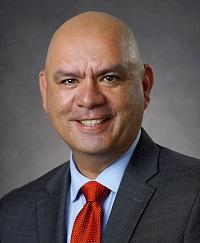 Senior Vice President and Chief Philanthropy Officer, The Cooper Foundation
Mr. Ortiz joined The Cooper Foundation as vice president of Development in January 2020, and was appointed interim director of The Foundation in March 2020. Under his leadership, The Foundation created a COVID-19 Assistance Fund in April of 2020 and has raised more than $2 million to provide much-needed medical equipment and supplies to support Cooper's clinical teams in caring for people during the pandemic. He was promoted to senior vice president and chief philanthropy officer of The Cooper Foundation in December 2020.
Prior to joining The Cooper Foundation, Mr. Ortiz served as director of Gift Planning for the eastern region of the United States for the University of Notre Dame. He brings 20 years of fundraising experience to Cooper, including his role as the academic advancement director for the law school at the University of Notre Dame from 2011 to 2014, and as a partner in the law firms of Florio Perrucci Steinhardt Cappelli Tipton & Taylor LLC, and Porzio, Bromberg & Newman, PC.
Mr. Ortiz received his undergraduate degree in government and international relations with a concentration in philosophy, politics, and economics from the University of Notre Dame in 1994. He received his juris doctor degree in 1997 from Villanova University's Charles Widger School of Law.