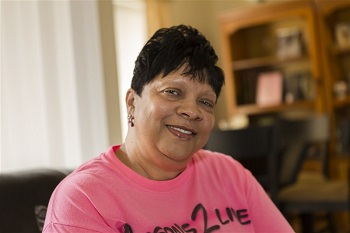 I'm a widow with three grown children and 15 grandchildren. I'm a breast cancer survivor and community advocate. My story is very ironic.
For years I've worked with my family's non-profit organization ministering to women of limited means throughout Burlington, Gloucester and Camden counties. Our foundation's mission is to educate, motivate and support, not just the individual diagnosed with breast cancer, but their entire family.
I was very upset with myself. I had lost two cousins to breast cancer and been active with our family's outreach program for quite a while, but when it was time for me to get my annual mammogram, I procrastinated and missed three appointments. Even though I was having symptoms and feeling fatigued, I still hesitated to see anyone or do anything.
One night, as I said my prayers, I asked the Lord to reveal to me why I was feeling so poorly. The next morning in the shower, I felt a lump in my breast.
Advanced, Aggressive Tumor
I immediately called my cousin who was a breast cancer survivor and she made some calls on my behalf. Soon, I had appointments for a mammogram and ultrasound. I had a biopsy almost immediately. I knew what was coming — and the call came as I expected. "You have breast cancer and we have you scheduled for an appointment with one of our breast surgeons."
I went to the appointment with my Cooper breast surgeon with 10 tearful family members by my side. My surgeon told me that I had Stage IIIb breast cancer. It was advanced and aggressive, "But," she said, "be happy we found it! You're going to be okay."
I asked the Lord to put me in the hands of the ones who will give me the best care, and He did. Dr. Robert Somer, a medical oncologist, led my amazing team. These beautiful doctors cared about me and took the time to explain everything in detail.
The first thing I wanted to do was to make my attitude clear to my doctors. I told them, "Jesus is going to heal me through you. You are Team Jesus."
Second, I knew I had to be strong for my family and for all those women in my community. I tell them all the time, "Save your life with regular mammogram screenings. You want to catch this early! You need to love yourselves and take care of yourselves." I had to be strong for them, as much as for myself.
My family rallied around me, waiting on me hand and foot. My treatment began with chemotherapy to shrink the 10.3 cm tumor, plus Herceptin once a week for a year. The chemo was very successful as was the lumpectomy. Radiation followed — five days a week for seven weeks. My daughter took me to treatments, and I always looked forward to seeing my doctors and nurses.
I pray a lot and maintain a positive attitude. I had cancer, but God didn't allow cancer to have me. I can only do what I can do today because we are never promised tomorrow.
The Best Team
I'm now five years cancer-free! I continue doing advocacy work and have started my own foundation called Reasons 2 Live. R2L focuses on helping cancer survivors live life to its fullest, encourages women to listen to their bodies and instincts, and use positivity and "giving back" as part of the healing process — work that testifies to and pays forward the love and support that I received.
When I'm out at events, I ask people to look at me. I say, "Do I look sick? Do I look like I've had cancer?" No! That's because I had the best team to take care of me.
This is where my story began — at MD Anderson at Cooper. My story is going to continue from now until the day I shut my eyes for good. I know there is a possibility that my cancer might recur. And if it does, MD Anderson at Cooper is where I'll go to get the best of care.