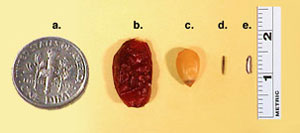 Each year, more than 500,000 American men receive vasectomies for permanent birth control. Most local medical centers offer minimally invasive vasectomies, but only Cooper University Hospital performs the in-line vasectomy, which is faster and less invasive than other procedures. It also requires less local anesthetic.
In a typical vasectomy, the doctor cuts the tubes (vas deferens) that carry sperm from the testicles to the urinary tract so that sperm can't get into the semen. Most of these procedures involve making incisions on each side of the scrotum to do this. The doctor then brings the entire tube to the skin level to remove a small section and seals the ends. The office-based or outpatient procedure takes about 30 minutes.
The in-line vasectomy is performed through an incision smaller than a grain of rice, using special scissors designed at Cooper. Only brings the upper part of the tube is brought to the skin level. Each side takes about five minutes.
Make an Appointment With a Urologic Surgeon Who Specializes in Vasectomies
To learn more about the services available for performing vasectomies in the Division of Urology or to request an appointment, please call 800.8.COOPER (800.826.6737).