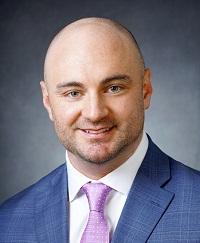 Mr. Ault is responsible for leading the revenue cycle and managed care strategy and operations for The Cooper Health System. In this role, he oversees health care access, clinical review, discharge planning, coding, billing, and training and education functions, as well as negotiations and compliance with insurance company reimbursement agreements.
Since joining Cooper in 2018, Mr. Ault has led the effort to improve the patient financial experience for all Cooper patients. Under his leadership, Cooper has implemented numerous initiatives including price estimation, patient financial navigation, and revenue integrity.
In 2019, Mr. Ault assumed responsibility for Cooper's Bone and Joint Institute, and for leading strategy for the orthopaedic, podiatry, rheumatology, and rehabilitation services.
Throughout his career, Mr. Ault has held leadership roles in managed care, access, and revenue cycle operations at leading health care organizations throughout the New Jersey and Philadelphia markets. 
Mr. Ault earned his master of business administration in health care administration from Thomas Edison State University and his bachelor degree from East Carolina University. He is a Fellow of the American College of Healthcare Executives.