Celebrating 135 Years
Click here
to view our special interactive 135th anniversary timeline.

Cooper University Health Care has been a leading provider of health services for the people of Southern New Jersey for more than 135 years with a mission To serve, to heal, to educate.
From its humble beginnings to its position today as a major regional health system, Cooper has maintained an unwavering commitment to provide the most advanced care in a compassionate, patient-centered environment and has continually grown to meet the needs of the community.
Early Beginnings

Cooper's roots can be traced to the mid-1870s, when Richard M. Cooper, MD, and members of his extended family donated money and land bounded by Mickle Street (now Martin Luther King Boulevard), Benson Street, 6th Street, and 7th Street for a new hospital. Guided by their Quaker roots, the prominent Camden family sought to provide medical care for the indigent population of the city. Although the four-story stone building was completed in 1877, the original 30-bed hospital stood empty for 10 years until enough money was available to open for patients in August 1887. Cooper Hospital's original medical staff consisted of eight doctors: four general physicians and four surgeons.
Cooper Hospital quickly became a cornerstone in the Camden community. As hospital facilities and medical care advanced, Cooper's reputation for excellence became widespread and it began to expand.
Rapid Expansion
From the very beginning, there was a pressing demand for additional services, and Cooper Hospital underwent several expansions in its early years:
1890
A training school for nurses opened.
1911
A much-needed outpatient building was completed adjacent to the hospital.
1923
A building for the hospital's first dedicated children's ward was completed.
1927
A three-story addition opened with private and semi-private patient rooms, an emergency department, and a commercial hospital kitchen.

1929
A new four-story Nurses Home was built to house staff.
1941
The John Thompson Dorrance Memorial Building opened. The six-story Dorrance Building provided additional private patient rooms, family waiting rooms, operating suites, and office space.
1958
Cooper received funding to add two, seven-story "wing" additions to the Dorrance Building (still in use today). When the Dorrance wings opened in 1960 and 1961, Cooper became the largest not-for-profit hospital in New Jersey at that time.
Renewed Commitment
Despite continual growth, Cooper's original building and many of the early expansions began showing wear reflecting years of use. At the same time, throughout the 1960s, Camden began to experience a population decline as many residents and businesses moved out of the city. Discussion among hospital leaders focused on whether Cooper should remain in Camden or build a new suburban hospital. After several years of debate, the decision was made to stay true to its founders' mission. Cooper would remain in Camden.
With this renewed commitment, Cooper began to renovate and replace its aging infrastructure. Cooper also developed into a major regional academic health system.

1976
After four years of planning, groundbreaking took place for a new 10-story, $38 million main building on the site of the original hospital. The Kelemen Building opened in March 1979. It was named for board member Frank Kelemen, who was credited with much of Cooper's transformation during this time.
1977
Cooper Hospital signed an agreement to become the clinical campus of the University of Medicine and Dentistry/Robert Wood Johnson Medical School. The development of the medical school affiliation advanced Cooper University Hospital as the major teaching hospital in South Jersey.
1986
An outpatient medical office facility, Three Cooper Plaza, opened along with an adjacent parking garage.
1996
Cooper University Hospital transformed into The Cooper Health System, reflecting its status as an academic, tertiary care, integrated health care delivery system.
2004
A $220 million investment in a Health Sciences Campus was announced as part of Cooper's efforts to create a regional health science hub in Camden.
2008
A new hospital building, the 10-story Roberts Pavilion, opened. The Roberts Pavilion is connected to the Dorrance and Kelemen buildings. For the first time, the hospital's front entrance and lobby shifted from Haddon Avenue to Martin Luther King Boulevard.

2012
After several decades of discussions, the first new medical school in New Jersey opened on the Cooper Health Sciences campus. Developed in partnership with Rowan University, Cooper Medical School of Rowan University graduated its first class in 2016.
2013
Cooper University Health Care partnered with the nation's leading cancer center, The University of Texas MD Anderson Cancer Center in Houston, creating MD Anderson Cancer Center at Cooper across Haddon Avenue from the main hospital.

2015
Cooper University Health Care had more than 1.5 million patient visits and revenues exceeded $1 billion for the first time.
2016
MD Anderson Cancer Center at Cooper opened an inpatient cancer unit on the fifth floor of the Roberts Pavilion, featuring 30 state-of-the-art private rooms. MD Anderson Cancer Center at Cooper also opened an office in Egg Harbor Township.
Cooper teamed up with Deborah Heart and Lung Center to create HeroCare Connect to provide veterans and active military with concierge specialty services.

2017
Three Cooper Plaza was renamed the Sheridan Pavilion in honor of former Cooper President and CEO John Sheridan and his wife, Joyce.
Cooper Today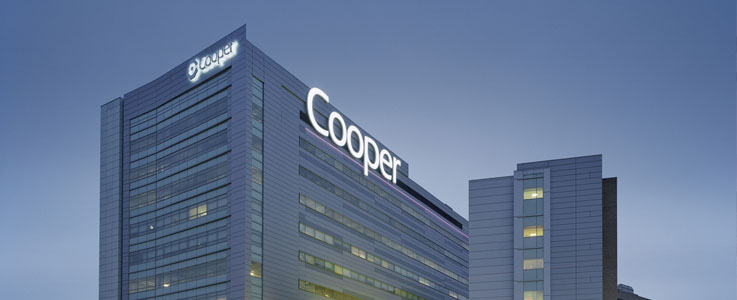 Today, the Cooper name is synonymous with a full range of health system services, including prevention, primary care, specialty services, all levels of inpatient care, and subacute care. While continuing to invest in its Camden campus, Cooper now operates more than 100 community-based, outpatient primary and specialty care offices and three urgent care centers to serve the health care needs of South Jersey.