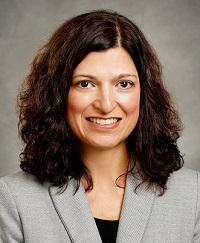 KARA S. APLIN, MD, MS, FACP, FASAM
Vice President of Medical Affairs
Dr. Aplin joined Cooper as a Hospitalist Teaching Attending in 2009. She also practices Addiction Medicine in the Center for Healing and is an Associate Professor of Clinical Medicine at Cooper Medical School of Rowan University, where she is a member of multiple committees. While at Cooper, she has held numerous administrative and clinical positions, including Medical Director of the Clinical Decision Unit, Physician Advisor for Utilization Management, Medical Director of Hospital Medicine, Division Head of Hospital Medicine, Chair of the Credentials Committee, Secretary of the Medical Staff, and Vice President of the Medical Staff.
In her role as Vice President of Medical Affairs, Dr. Aplin serves as Co-Pillar Champion for Quality and High Reliability. . She is involved in developing strategies and executing plans to improve care delivery, increase access, further our high reliability work, and improve throughput and quality, two areas where she has been published in peer-reviewed journals.
Dr. Aplin obtained her medical degree from the University of North Carolina School of Medicine and completed an Internal Medicine residency and a Chief of Internal Medicine resident year at Yale-New Haven Hospital in New Haven, Connecticut. She earned a master's degree in population health management from the Jefferson College of Population Health. She holds board certifications in Internal Medicine from the American Board of Internal Medicine and in Addiction Medicine from the American Board of Preventive Medicine. Dr. Aplin is also a Fellow of the American College of Physicians and Fellow of the American Society of Addiction Medicine.