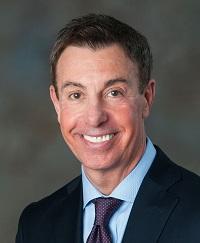 Senior Vice President and Chief Administrative Officer
Mr. Bezich has more than 40 years of senior management experience including leadership positions in county and municipal government as well as higher education and the private sector. He joined Cooper in 2011 and leads Cooper's external relationships and is responsible for government and community relations, real estate, and military services. He currently serves as Cooper's administrative lead for the COVID-19 response.
Mr. Bezich is vice chairman of the Rowan University/Rutgers-Camden Board of Governors. He serves as board chair of the Camden Coalition of Health Care Providers, and is a member of the board of the Camden Community Partnership, Inc. Mr. Bezich is also president of the board of the Cooper Lanning Square Renaissance School Facilities, Inc., an affiliate of the KIPP Cooper Norcross Renaissance Schools.
From 2002 to 2020, he served as chairman of the Camden Higher Education and Health Care Task Force and is former chairman of the Camden Special Services District Advisory Board. From 2001 to 2009, Mr. Bezich served as president of the Board of Education of the Camden County Technical School District. He is past president of the Boy Scout Councils of Camden County and Southern New Jersey, and is the recipient of their Silver Beaver and Distinguished Citizen Awards for community service. 
Mr. Bezich is an adjunct professor in the Graduate Department of Public Policy and Administration at Rutgers University-Camden and has previously taught at Camden County College and Rowan University. He is the author of "Crack The Code: 10 Proven Secrets that Motivate Healthy Behavior and Inspire Fulfillment in Men Over 50," and a contributing author to "Corporate Lawbreaking and Interactive Compliance." He is a contributing writer on 50-plus men's health for PhillyVoice and author of numerous articles on public policy and men's health.
Mr. Bezich holds a master of public policy degree from Rutgers University and a bachelor of science degree from the University of Tampa. He is a graduate of Harvard University's Program for Senior Executives in State and Local Government.