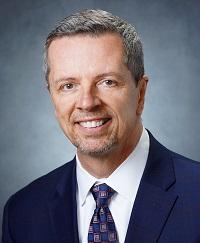 ROBERT HOCKEL, MBA, FACHE
Senior Vice President, Hospital Operations
As Senior Vice President of Operations, Mr. Hockel is responsible for leading overall hospital operations to support an outstanding patient, physician, and employee experience. He has direct responsibility for hospital inpatient and outpatient operations strategy and performance including radiology services, laboratory, pharmacy, patient transport, food and nutrition, environmental services, retail services, security, parking, facilities maintenance, and design and construction.  Mr. Hockel provides executive leadership support for Cardiology, Neurosciences, and Adult Health Specialties.
Mr. Hockel brings more than 30 years of leadership experience to Cooper University Hospital. Prior to joining Cooper, Mr. Hockel served in a number of senior leadership roles during a 15-year career at Virtua Health including Vice President of Operations, Vice President of Ambulatory Services and Development, and Vice President and Site Administrator at the Memorial Hospital in Mount Holly, New Jersey. As a servant leader, he has led teams that have produced exceptional quality & safety, customer satisfaction, and employee engagement results. Mr. Hockel was responsible for the development and operation of three new big-box ambulatory centers totaling over 800,000 square feet, and the launch of multiple new programs and services. Prior to Virtua, Mr. Hockel spent 12 years with Marriott International and Sodexo.
Mr. Hockel has served as a board member for the Greater Camden Partnership, Cooper's Ferry Partnership, and also served as a member of the Camden Higher Education and Health Care Task Force. Mr. Hockel has served on multiple joint-venture surgery-center boards and currently serves on the board for a joint-venture radiology partnership.  
Mr. Hockel is a fellow of the American College of Healthcare Executives (FACHE), a member of the Healthcare Leadership Network of the Delaware Valley (HLNDV), and completed his six-sigma green belt training at Villanova University. Mr. Hockel attended Penn State University and completed his degree in business management at the University of Phoenix. Mr. Hockel holds a master of business administration from Saint Joseph's University.