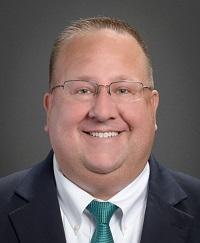 TIMOTHY D. MARKS, DNP, MBA, RN, CEN, NEA-BC
Vice President and Associate Chief Nursing Officer
Dr. Marks joined Cooper University Health Care as the Vice President and Associate Chief Nursing Officer. Since working as a nursing assistant, emergency department technician, and staff nurse, the patient and the staff has always come at the center of his practice. As a leader, Dr. Marks has served in a variety of clinical leadership and academic positions including in emergency departments, observation services, inpatient nursing, clinical education; as a clinical adjunct professor; and in roles including unit director, division director, and system associate vice president and chief nursing officer.
Throughout his more than 20 years in health care, Dr. Marks has dedicated his knowledge, experience, and expertise to foster and develop professional and clinical expertise, and to enhance engagement of the nurses and inter-professional teams he serves. High-quality care, efficient and clinical and patient-centered outcomes are achieved through building strong relationships and a passion for building collaborative teams.
Dr. Marks' vast experience has positioned him to develop proactive and innovative approaches that improve the organizations and communities he has served in New Jersey and Pennsylvania. His authentic leadership style and strong belief in shared governance has led previous organizations to successful designation and accreditation for nursing's highest clinical practice and outcome awards. 
Dr. Marks is certified by the American Nurses Credentialing Center (ANCC) as a Certified Emergency Nurse (CEN) and a Nurse Executive - Advanced, Board Certified (NEA-BC). He is a member of the New Jersey Organization of Nurse Leaders (NJ ONL) and former Co-Chair of the Education Committee in Pennsylvania.
Dr. Marks earned his Doctorate of Nursing Practice, with a doctoral nursing project focusing on improving the patient experience and enhancing clinical outcomes. He obtained a Master of Business Administration (MBA) from Alvernia University, a Master of Science in Nursing (MSN) as an acute care nurse practitioner, a post-baccalaureate certificate in Nursing Education, and RN- BSN from Drexel University in Philadelphia. He originally completed an associate degree in Applied Science from Burlington County College in New Jersey and became a registered nurse.
Dr. Marks has published and presented his work in local, national, and international multi-media forums and continues to seek new opportunities to elevate professional nursing practice in those he works with, and those around the world.