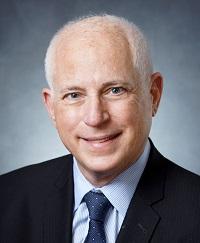 JOSEPH M. MONTELLA, MD, MS, CPE
Previously, Dr. Montella served as Cooper's vice president of Medical Affairs. In his current role of chief medical officer, he is responsible for leading Cooper's Quality and Safety initiatives. He has an integral role in aligning service line, center, and departmental metrics with overall organizational goals in order to improve value while maximizing reimbursement and reducing cost. He is also responsible for leading Cooper's journey to become a High Reliability Organization.
Prior to joining Cooper in 2015, Dr. Montella worked in the department of obstetrics and gynecology at Sidney Kimmel Medical College of Thomas Jefferson University in Philadelphia, PA, where he held many leadership positions including division head of Female Pelvic Medicine and Reconstructive Surgery, medical director of Quality and Safety, and chair.
Dr. Montella received his doctor of medicine degree from Jefferson Medical College in Philadelphia, PA, then completed a residency in obstetrics and gynecology at Thomas Jefferson University Hospital and a fellowship in female pelvic medicine and reconstructive surgery at the University of California, Irvine. He earned a master of science degree in Healthcare Quality and Safety from the Jefferson College of Population Health and is both a certified physician executive through the Certifying Commission of Medical Management and a Certified Professional in Healthcare Quality. He is board certified in obstetrics and gynecology and female pelvic medicine and reconstructive surgery.