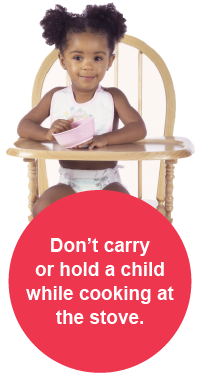 The smell of cookies baking in the oven or tasty sauces simmering on the stovetop is hard to resist for adults and kids alike. Here are a few simple steps to keep your little chef safe from potential burns, whether in the kitchen, around a fireplace or in any other part of your home.
The Hard Facts
In 2013, more than 126,035 children across the country, including more than 67,000 children 4 and under, were injured due to a fire or burn and treated in emergency rooms.
Top Tips
Don't carry or hold a child while cooking on the stove. Instead, move a high chair in the kitchen within reach or sight before you start. Then talk to your children so they know what's going on. It's a great way to spend time together.
With everything going on, we know the water heater is the last thing on your mind. But a small adjustment can give you one less thing to worry about. To prevent accidental scalding, set your water heater to 120 degrees Fahrenheit or the manufacturer's recommended setting.
Kids love to reach, so to prevent hot food or liquid spills, simply use the back burner of your stove and turn pot handles away from the edge. Keep hot foods away from the edge of your counters.
Make a habit of placing matches, gasoline and lighters in a safe place, out of children's reach. Avoid novelty lighters or lighters that look like toys.