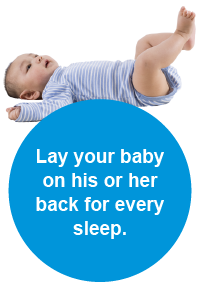 There is nothing more beautiful than a sleeping baby, especially for parents who are often overtired themselves. By following a few simple tips, you can create a safer sleeping environment for your baby.
The Hard Facts
Unintentional suffocation is the leading cause of injury-related death among children under 1 year of age. Nearly three-quarters of suffocation deaths among infants are from accidental suffocation or strangulation in bed.
Top Safety Tips
Because most infant suffocation occurs in the sleeping environment, babies should always sleep in a safe crib, bassinet or pack-n-play.
Lay your baby on his or her back for every sleep.
We know that stuffed animals, bumpers and all those cute accessories make a baby's crib seem warm and cozy. Unfortunately, they can often do more harm than good. Soft bedding can block a baby's airway during sleep. A firm mattress covered with a tight-fitting crib sheet is all you need to make your baby sleep like a baby.
Room-sharing is a safer option than having your baby sleep in bed with you. Place your baby's crib, play yard or bassinet in your room for more convenient feeding and close contact.
Remember to always return your baby to his or her own crib when you're ready to go back to sleep. This is tough sometimes because parents are often more tired than the babies, but it is much safer.