As a recognized Critical Care training program, Cooper is home to South Jersey's first and only formal extracorporeal membrane oxygenation (ECMO) program—giving the region's residents access to this lifesaving therapy closer to home.
Extra-Corporeal Membrane Oxygenation, or ECMO therapy, is a treatment for patients with severe pulmonary issues and respiratory failure.  In Cooper's Intensive Care Unit (ICU), ECMO it used specifically take over function of the failing lungs so they can rest or heal. ECMO does not heal or cure the failing lungs; it provides time for them to heal. ECMO is used for critically ill patients whose health has not improved despite other maximal medical therapies.
A patient may be a candidate for ECMO if he or she has an illness which may improve with heart or lung rest or if a procedure can fix the cause of the illness.
Some common conditions that may benefit from ECMO are:
Acute respiratory distress syndrome (ARDS)
Severe pneumonia or influenza
Conditions causing severe heart failure
Pulmonary embolism
Severe asthma
After heart surgery
How does ECMO work?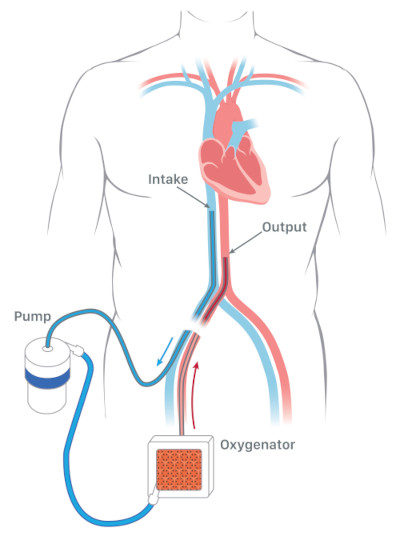 ECMO requires tubes called cannulas to be placed in specific blood vessels in the patient's body. These cannulas are connected to the ECMO machine (called a circuit), which is outside of the patient's body. ECMO works by removing blood from a large vein (through a cannula) and sending that blood through an ECMO circuit, which is outside of the patient's body. This circuit will pump the blood through an oxygenator, which will function like a patient's healthy lung. The oxygenator will add oxygen to the blood and remove carbon dioxide (CO2). The blood is warmed will then be returned to the patient's body through another cannula.
In some patients, the cannula draining blood will be located in the groin and the cannula returning blood to the patient will be located in a vein in the neck (see diagram).
In some patients, a single cannula can be used. This cannula would have two separate openings. One would drain blood from the patients and another separate opening would allow blood to be returned to the patient after passing through the ECMO machine.
How long do patients require ECMO?
The duration of time a patient will need ECMO support depends on each patient's own specific medical condition. ECMO support will be reduced for short periods, called "weaning." This will allow the ECMO team to see how the lungs are recovering. When the team decides ECMO support is no longer needed, the machine will be turned off during a specific process by the ECMO team. The cannulas can then be removed. In some instances, the cannulas can be removed in the ICU. In some patients, these cannulas will need to be removed in the operative room.
ECMO requires a multidisciplinary team and many services to provide academic-level care to our patients. The team includes:
Intensive Care Physicians
ECMO Physicians
Cardiothoracic surgeon and/or cardiologist
ECMO Perfusionist
Critical Care Nurses
Respiratory therapists
Pharmacists
Social workers
Dieticians
Physical therapists
Other sub-specialists including infectious disease, pulmonary, nephrology, and others as needed for optimal care
Spiritual support
Physicians Specializing in Extra-Corporeal Membrane Oxygenation (ECMO) Therapy