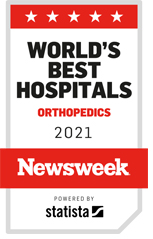 The muscles, bones, joints, and nerves of the hand can work in a wonderful harmony that we rarely notice. Unfortunately, injury and disease can disrupt that harmony and produce pain, deformity, and dysfunction.
At Cooper University Health Care's Hand and Nerve Center, a multidisciplinary team of specialists in hand and nerve disorders comes together to offer expert, collaborative care.
Why Choose Cooper for Hand and Nerve Care?
Patients and families in the South Jersey community and beyond choose Cooper for hand and nerve services because of our:
Expertise: Our hand and nerve specialists have experience treating many different hand and upper extremity disorders using a variety of techniques. Our fellowship-trained doctors have received specialized training in the hand's tissues, bones, and structures. This knowledge helps them perform intricate surgeries with effective results.
Innovative treatment options: We offer patients many treatment options, including nonsurgical solutions. When surgery is necessary, Cooper offers many approaches that result in a quicker recovery and reduced pain.
Advanced technology: Our procedure rooms are equipped with advanced technologies that benefit patients during diagnosis and treatment. An image-compatible operating table guides doctors during intricate surgeries. Minimally invasive instruments allow for smaller incisions during surgery with the same effective results.
Team approach: At Cooper, a team of specialists – including orthopaedic surgeons, plastic surgeons, rheumatologists, physiatrists, and occupational therapists – work together for your benefit. This collaboration ensures you receive the highest level of care.
Comprehensive rehabilitation services: If your doctor recommends surgery, post-surgery rehabilitation may help to increase your hand's strength and function. Cooper's rehabilitation program offers a wide range of physical therapy and occupational therapy options with trained specialists to guide your care. Learn more about our physical therapy and rehabilitation program.
Hand and Nerve Conditions We Treat
Our multidisciplinary team of specialists cares for a wide range of hand and nerve conditions.
We specialize in the treatment of:
Boutonniere deformity
Brachial plexopathy
Bursitis and tendinitis
Carpal tunnel syndrome
Claw hand
Congenital hand differences
Cubital tunnel syndrome
Degenerative and rheumatoid arthritis
de Quervain's tendonitis
Dupuytren's disease and Dupuytren's contracture
Extensor tendon injuries
Felons (fingertip infections)
Flexor tendon injuries
Fractures and dislocations
Ganglion cysts
Infections and tumors
Internal fixation
Mallet finger (baseball finger)
Open reduction radial nerve dysfunction
Rotator cuff injuries
Soft tissue sprains, strains, and contusions
Tennis elbow
Trigger finger
Ulnar collateral ligament injuries
Ulnar nerve transposition
Hand and Nerve Services
Our team is dedicated to providing expert care for people with hand and nerve pain or related conditions. Depending on your unique circumstances, your doctor may recommend one or more of the following:
Bracing
Closed reduction and fixation
Fasciotomy
Injury prevention strategies
Injections
Joint replacement
Medications
Nerve repairs and/or release
Replantation
Skin grafts or skin flaps
Surgical drainage and/or debridement
Tendon repair
Contact Us
To learn more about Cooper's hand and nerve services, to schedule an appointment, or to refer a patient, please call 800.8.COOPER (800.826.6737).