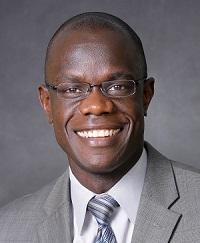 Vice President, Enterprise Access and Chief Analytics Officer
Mr. Bosire is responsible for leading efforts to simplify and modernize patient access operations at Cooper with the goal of making it easy and convenient for patients to obtain care from our physicians. He also provides analytic and thought leadership for the organization's patient experience program. Additionally, he is responsible for leading the organization's analytics journey, and focused on enabling business leaders to maximize the value derived from the organization's data assets.
Mr. Bosire joined Cooper in 2014 after a seven-year career at Virtua, where he served in multiple roles in the areas of Operations Improvement and Business Analytics. His latter role at Virtua was director of Management Engineering, where he led the process improvement and business analytics teams responsible for supporting the planning and execution of the organization's strategic initiatives.
Mr. Bosire holds a master's degree in Systems and Industrial Engineering from SUNY, Binghamton. He is also an ASQ-certified Six-Sigma Black Belt.