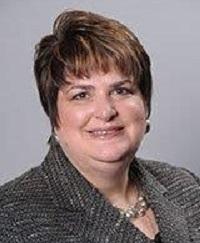 ANGELA MELILLO, MBA, CHC, CHRC, CPC
Ms. Melillo has more than 30 years of progressive health care administration experience in integrated delivery systems, acute care hospitals, business development, and physician practice management.
Prior to joining Cooper, Ms. Melillo served as the vice president chief compliance officer at Saint Peter's Healthcare System in New Brunswick, New Jersey; the executive director of Community Medical Associates, a primary care MSO; and as the executive director and chief operating officer of Kimball Medical Center (now Monmouth Medical Center Southern Campus).
A graduate of Rutgers College in New Brunswick, NJ, Ms. Melillo received a master of business administration degree in health care administration from CUNY-Mount Sinai School of Medicine. She is the chairperson of the NJHA Compliance Constituency Committee, a member of the Associate of American Medical Colleges Compliance Officer Forum Steering Committee, and certified in health care compliance and health care research compliance.