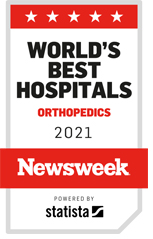 Athletes count on the Cooper Bone and Joint Institute for a reason: we get them back in the game. Our sports medicine experts treat athletes at all ability levels, from professional to recreational, using the most advanced care in South Jersey.
We use skilled, hands-on evaluation and diagnostic testing to determine the best care plan for you. At Cooper, you don't have to be an elite athlete to get elite care.
Why Choose Cooper for Sports Medicine Care?
Patients choose Cooper for sports medicine services because of our:
Expertise: Our sports medicine and rehabilitation specialists are experienced in treating patients of all ages with a variety of injuries. Our doctors are board-certified, which means they receive extra training to effectively diagnose and treat a wide range of common and complex sports injuries.
Advanced rehabilitation options: Proper rehabilitation is essential for a swift recovery from injury. At Cooper's sports medicine and rehabilitation centers, patients have access to advanced rehabilitation equipment and the latest techniques.
Focus on injury prevention: We are passionate about helping our patients transition from rehabilitation to peak athletic performance, and it's our goal to keep you injury-free moving forward. With that in mind, we focus on educating you to help avoid re-injury.
Team approach: At Cooper, our sports medicine program brings together a team of experts to keep patients in the game. Orthopaedic surgeons, sports medicine physicians, physical therapists, and athletic trainers collaborate to ensure you receive the highest level of care.
Community education: We are dedicated to keeping the athletic community healthy and active. Through our partnership with local colleges, school districts, and professional sports teams, our clinical team educates local athletes, coaches, and parents about injury prevention. We have helped thousands of athletes understand how to care for their bodies before, during, and after sports activity.
Sports Medicine Services
Athletes have unique needs that often require specialized care. Our experts are dedicated to providing this care for athletes of all ages and abilities. We offer a full range of nonsurgical and surgical sports medicine services.
Nonsurgical sports medicine services
We can effectively treat most sports injuries without surgery. Our primary care sports medicine physicians specialize in nonsurgical treatment for issues such as:
Acute injuries

Sprains and strains
Knee, shoulder, or other joint injuries
Fractures and stress fractures
Ligament and cartilage injuries
Head injuries

Overuse injuries
Concussion evaluation and management
Surgical sports medicine services
If your doctor recommends surgery, our orthopaedic surgeons have experience treating a range of sports medicine injuries, including:
Torn ligaments and tendons
Broken bones
Damaged cartilage
Arthritis and other degenerative conditions
Sports Teams We Treat
Our sports medicine experts are proud to be the official team physicians for many schools in the South Jersey community, including:
Camden Catholic High School
Cinnaminson High School
Deptford High School
Haddon Township High School
Paul VI High School
Riverside High School
Rowan College of South Jersey (formerly RCGC)
Rowan University
Rutgers Camden
Woodstown High School
Contact Us
To learn more about Cooper's sports medicine services, to schedule an appointment, or to refer a patient, please call 800.8.COOPER (800.826.6737).