Controlling Your Pain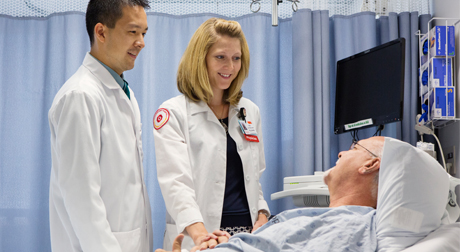 Your comfort is very important to us. You have the right to the appropriate assessment and management of your pain. Pain management is a necessary part of your treatment plan. We ask that you discuss pain relief options with your physician, ask for pain relief options when pain first begins, tell us when pain is not relieved, and tell us about any concerns you have to help your doctor and nurse assess your pain.
Cooper offers a presentation on pain management. To view this presentation on your television, dial extension 4999, code #630.
Types of Pain Medicine
Intravenous pain medicine comes into your body through a tube, often in your arm. This provides fast relief, often within 15 minutes.
Epidural pain medicine is given through a small tube (catheter) which is inserted in your back. It is typically used when you have surgery on the lower part of your body. Usually relief is constant.
Oral pain medicine is given by the mouth in tablet or liquid form. Oral medicines are used when other medicine is no longer needed (24 to 48 hours after surgery). It can also be used before physical therapy or a medical procedure that might cause discomfort. You usually feel better within 30 to 45 minutes.
Patient-controlled analgesia (PCA) uses a computerized pump to send pain medicine directly into your blood stream. When you need pain relief, you can give yourself pain medicine by pressing a button or switch. The pump does not allow you to get too much and relief is usually steady. Your doctor or nurse can change the allowed dose if you are not finding relief.
Rate Your Pain
The best way we will know when you have pain is for you to tell your doctors, nurses and therapists:
Where you are hurting? Point to or describe the place(s) where it hurts.
What the hurt feels like? Use words like aching, burning, cramping, deep, dull, gnawing, pinching, pounding, pressing, prickling, pulsing, sharp, shooting, stabbing, tight, tender, or  throbbing to describe your pain. This will help us decide which medications or treatments are best for you.
How much you are hurting? Rate your pain on a scale from 0 to 10, with 0 meaning no pain, and 10 meaning the worst pain you can imagine. Reporting your pain as a number lets us know how well your treatment is working. You can also rate your pain with the faces or by using words such as mild, moderate, or severe.
Keeping Pain in Control
Do not wait for the pain to get bad. Ask for pain medicine before pain starts or when it first begins. It is easier to control pain when it is mild, before it gets severe. If you know your pain will get worse when you do certain physical activity, ask for your pain medicine first.
Possible Side Effects of Pain Medication
Side effects of pain medication that sometimes occur include:
Nausea
Constipation
Sleepiness
Itchiness 
Difficult urination. 
If you are bothered by any of these side effects, or if your IV is painful, tell your nurse and doctor.
Other Ways to Relieve Pain
Hot/Cold packs
Music
Relaxation
Reading
Changing positions
Watching TV
Participate in Your Own Care
Cooper University Hospital will take every precaution to prevent medical errors. As part of our prevention efforts, we will continually check your identity and ask you about your care. We also encourage you to be a participant in your care.
Research shows that patients who are more involved in their care tend to get better results. Some ideas include:
Speak up if you have questions or concerns or don't understand what you are being told.
Pay attention to the care you are receiving to make sure you are getting the right treatments and medications by the right health care professionals.
Educate yourself about your diagnosis, the medical tests you are having, and your treatment plan.
Ask a trusted family member or friend to be your advocate by assisting you in filling out forms and communicating your health care wishes.
Know what medications you take and why you take them.
Participate in all your decisions about your treatment. You are the center of the health care team.
You are encouraged to contact Cooper University Health Care's Patient Relations Department at 856.342.2432 regarding any concerns about patient care and safety that have not been addressed. If the concern continues, you may contact: The Joint Commission Office of Quality Monitoring, One Renaissance Boulevard, Oakbrook Terrace, Illinois, 60181, 1-800-994-6610 or email complaint@jointcommission.org.
Calling Your Nurse
Near your pillow, you will find a call button that signals the nursing station for assistance. A nurse will either come to your room or respond to your call through the intercom system above your bed. If you feel weak, please call your nurse before attempting to get out of bed. When the side rails on your bed are raised for your protection, do not attempt to get out of bed without the assistance of a nurse. If you feel weak while in the bathroom, push the emergency signal button to call for assistance.