The Roberts Pavilion lobby offers an array of patient and visitor amenities:
Patient Services Center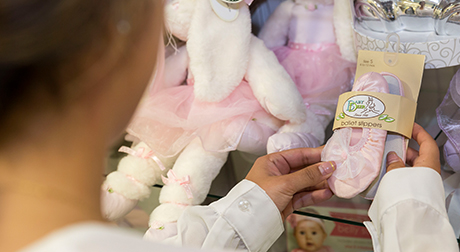 The Patient Services Center provides a convenient "one-stop" for your entry into Cooper including general check in and obtaining visitor passes. The prime location in the Roberts Pavilion lobby, room P108, provides access to the following services:
Registration
Cashier
Direct admissions
Insurance and financial counseling
Medicaid Application Assistance
Patient Education
Cooper is pleased to offer patient educational videos to inpatient rooms. Speak with your nurse or physician for a full list of available videos.
Patient Relations
Patient Relations staff are available to answer questions and assist with patient and visitor needs. Services include:
Advance Directives
Health Information Material
Computers with Wireless Access
Non-medical Problems
Margaret L. Isaacs Chapel
The Margaret L. Isaacs Chapel is an intimate space within Cooper University Hospital provided for reflection, meditation, prayer, and spiritual renewal. It is open to all patients and their families,visitors, and staff members with respect given to all religions, cultures, and beliefs. The non-denominational chapel is accessible from the Roberts Pavilion Lobby and is open 24 hours a day, seven days a week. A schedule of religious services is posted in the chapel.
DiFlorio Family Healing Garden
The Healing Garden, located off the Garden Walk which links the parking garage with the Roberts Pavilion, is a place where patients, their loved ones, and friends are invited and encouraged to find solace, serenity, and reprieve. The Garden is open from dawn to dusk, seven days a week.
Visitor Dining Options
We offer several dining choices: Starbucks, Naturals!, and the Cooper Court Cafeteria.
Starbucks, located on the ground floor of the Roberts Pavilion, has a wide variety of handcrafted beverages, along with an array of breakfast and lunch sandwiches, salads, pastries, and packaged snacks. Starbucks is open from 6 a.m. to 9 p.m., Monday through Friday, and 7 a.m. to 6 p.m. on Saturday and Sunday.
Naturals!, on the first floor next to the gift shop, provides an excellent choice of fresh, natural, and healthy gourmet sandwiches, salads, smoothies, and fresh-pressed juices. Naturals! is open from 6 a.m. to 10 p.m. Monday through Friday, and 8 a.m. to 6 p.m. Saturday and Sunday.
Cooper Court Cafeteria, located on the second floor of the Kelemen Building, offers breakfast, lunch, and dinner. The cafeteria is open 24/7 with the exception of 10:30 a.m. to 11 a.m. daily. 
Gift Shop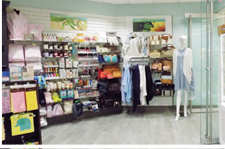 The hospital has a full-service gift shop, Lori's Gifts, with a wide variety of items: inspirational, baby, seasonal, candles, gifts, jewelry, candy, cards, and newspapers. Sales of flowers or live plants are temporarily unavailable. The hours are 7 a.m. to 8 p.m., Monday through Friday; and 9 a.m. to 7 p.m. on Saturday and Sunday. 
Order online or call 877.887.3200 for same-day or next-day delivery! Through Lori's Gifts, families and friends of patients in the hospital may order gifts online for same-day or next-day delivery to the patient's room. 
Retail Pharmacy
Direct Meds of Camden at Cooper University Hospital eliminates your need to travel to a local pharmacy. We accept prescriptions directly from your provider. Orders can be picked up at discharge or delivered directly to your home. The pharmacy is located on the first floor of the Roberts Pavilion, The hours are 9 a.m. to 8 p.m., Monday through Friday; 9 a.m. to 4 p.m., Saturday and Sunday; and 24-hour on-call service. Call 856.966.0980 or fax 856.966.0984 for additional information.
Balloons
Only balloons made of mylar — a foil material that holds helium — are permitted in the hospital. Balloons made of other materials, such as latex, cannot be brought into the hospital because many patients and staff members are allergic to latex.
Complimentary Guest Wireless Internet Service
Enable Wi-Fi on your computer or phone (your device will automatically search for available Wi-Fi networks).
Choose "Cooper-guest" network.
Accept Cooper's terms and conditions.
After you join the network, you'll see a check mark next to the network and full wireless bars in the upper-left corner of your display.