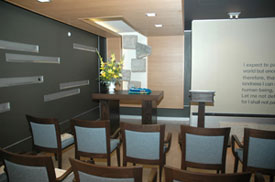 The Pastoral Care Department promotes a holistic approach to the care of the people we serve. The spirit is an intrinsic part of the human body. The strengthening of the spirit promotes the healing of the body.
Pastoral Care encourages the healing process by using the unique tools of spirituality, religious affiliation, and the exercise of symbolic ritual, as these are defined by the recipient.
We hope that we can be of some assistance to you whether as a patient or a future patient. We are concerned about you as well as your loved ones. Your stay in the hospital may be filled with questions, concerns, hopes, and needs. Our staff is interested in hearing your concerns. Because they are important to you, they are important to us as well.
If you would like to talk to a chaplain or receive sacraments while in our care, simply dial extension 100-2197, and state your name and location so we can respond to your needs. Whatever your need--a pastor, a priest, a rabbi, an imam, a companion, or a listening ear--please feel free to contact us. We are here to listen, counsel, care, worship, or help with any of your needs. We are here for members of all faith groups as well as those who do not attend a formal religious institution.
Our lovely Margaret L. Isaacs Chapel is open at all times, and we encourage you and your loved ones to visit. The Chapel is on the first floor of the Roberts Pavilion Lobby, Room P118. There you will be able to worship and find counsel in a peaceful and quiet environment.
Margaret L. Isaacs Chapel Religious Services Schedule
Catholic Mass - Sunday at 10:15 a.m. and 11:30 a.m. Friday.
Jewish Minyan - Wednesday at 6:45 a.m.
Mid-Week Devotional - Wednesday at Noon
Muslim Jumah Salat  - Friday at 1:30 p.m.
Protestant Service - Sunday at 9:00 a.m.
All are welcome. The entrance area of the chapel is always available for meditation.
Our Staff
| | | |
| --- | --- | --- |
| | | |
| Reverend Mark Stevens | Sister Miecia Koczera | Deacon Joseph Sweeney |
Volunteers Needed
We are always looking for volunteers. If you would like to meet and greet people in a medical setting, we ask you to consider volunteering at Cooper. We provide parking, meals, and a pleasant working atmosphere. If you are a good listener and enjoy open discussions, give us a try. We can use people of all spiritual persuasions.
Call us at 856.342.2197 for more information about volunteer opportunities.